electric - Tensioned Control
Fabric
flame retardant
surface can be cleaned
mildew resistant
LUMIEN CINEMA Tensioned Control – screens with electric drive and with tensioning system on the sides. With perfectly flat surface, these screens are designed for those for whom the picture quality is crucial. Сinema Tensioned Control with the image of cinematic level are the ideal choice for real moviegoers.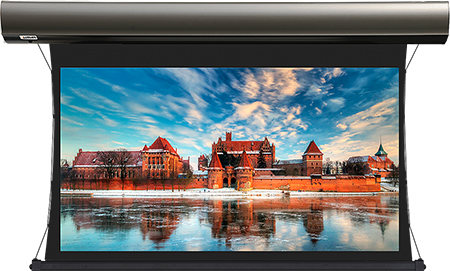 Features:
projection fabric is tensioned on the sides, which makes the surface even more flat;
aluminum case is lightweight and has attractive design;
two colors of the body are available – classic white and unique titanium, which changes colour according to lighting and gives daintiness to any interior;
when collapsing the screen, the triangular aluminum bar at the bottom of the canvas retracts into the case and gives a neat appearance to the installation;
perfect tensioning system ensures a completely flat surface of the screen, allowing you to project any image in any conditions of installation;
two types of remote control systems are included (RF / IR);
trigger system provides connection between projector and the screen (optional);
upper black border provides an ideal viewing height – its size is determined by the height of the screen;
three types of projection fabric are available – white Matte White and acoustically transparent High Contrast Sound and Matte White Sound.
Table of models:
Product Code
Total
size, sm
A x B
Viewing
area, sm
C x E
Diagonal
of the viewing
area,
sm/inches
D
Black border
right, left /
up / down, sm
G
Colour
Fabric
Size
of the case,
mm
Weight, kg
Retail
price
aspect ratio 16:9
LCTC 100101
155х235
120x213
244/96"
11/3/30
titanium
High Contrast Sound
120x160x2645
19,5
$3203
LCTC 100102
160х244
125x222
254/100"
11/3/30
titanium
High Contrast Sound
120x160х2735
20,4
$3476
LCTC 100103
168х257
132x234
269/106"
11/3/30
titanium
High Contrast Sound
120x160х2865
21,3
$3543
LCTC 100104
184х286
148x264
302/119"
11/3/30
titanium
High Contrast Sound
120x160х3155
23,5
$3749
LCTC 100105
186х317
166x295
338/133"
11/3/15
titanium
High Contrast Sound
120x160x3470
25,4
$3884
LCTC 100106
207х354
187x332
381/150"
11/3/15
titanium
High Contrast Sound
120x160x3840
28
$3953
LCTC 100107
219х374
198x352
404/159"
11/3/15
titanium
High Contrast Sound
120x160x4040
29,5
$5316
LCTC 100108
155х235
120x213
244/96"
11/3/30
titanium
Matte White
120x160x2645
19,7
$2126
LCTC 100109
160х244
125x222
254/100"
11/3/30
titanium
Matte White
120x160x2735
20,3
$2290
LCTC 100110
168х257
132x234
269/106"
11/3/30
titanium
Matte White
120x160x2865
21,2
$2386
LCTC 100111
184х286
148x264
302/119"
11/3/30
titanium
Matte White
120x160x3155
22,8
$2617
LCTC 100112
186х317
166x295
338/133"
11/3/15
titanium
Matte White
120x160x3470
25,5
$2861
LCTC 100113
207х354
187x332
381/150"
11/3/15
titanium
Matte White
120x160x3840
28
$3639
LCTC 100114
219х374
198x352
404/159"
11/3/15
titanium
Matte White
120x160x4040
29,6
$3703
LCTC 100129
155х235
120x213
244/96"
11/3/30
titanium
Matte White Sound
120x160x2645
19,7
$3203
LCTC 100130
160х244
125x222
254/100"
11/3/30
titanium
Matte White Sound
120x160x2735
20,4
$3476
LCTC 100131
168х257
132x234
269/106"
11/3/30
titanium
Matte White Sound
120x160x2865
21,2
$3543
LCTC 100132
184х286
148x264
302/119"
11/3/30
titanium
Matte White Sound
120x160x3155
23,3
$3749
LCTC 100133
186х317
166x295
338/133"
11/3/15
titanium
Matte White Sound
120x160x3470
25,4
$3884
LCTC 100134
207х354
187x332
381/150"
11/3/15
titanium
Matte White Sound
120x160x3840
28,2
$3953
LCTC 100135
219х374
198x352
404/159"
11/3/15
titanium
Matte White Sound
120x160x4040
29,7
$5316




















LCTC 100115
155х235
120x213
244/96"
11/3/30
white
High Contrast Sound
120х160x2645
19,4
$3203
LCTC 100116
160х244
125x222
254/100"
11/3/30
white
High Contrast Sound
120х160x2735
19,8
$3476
LCTC 100117
168х257
132x234
269/106"
11/3/30
white
High Contrast Sound
120х160x2865
21,2
$3543
LCTC 100118
184х286
148x264
302/119"
11/3/30
white
High Contrast Sound
120х160x3155
23
$3749
LCTC 100119
186х317
166x295
338/133"
11/3/15
white
High Contrast Sound
120х160x3470
24,9
$3884
LCTC 100120
207х354
187x332
381/150"
11/3/15
white
High Contrast Sound
120х160x3840
27,5
$3953
LCTC 100121
219х374
198x352
404/159"
11/3/15
white
High Contrast Sound
120х160x4040
29,8
$5316
LCTC 100122
155х235
120x213
244/96"
11/3/30
white
Matte White
120х160x2645
19,3
$2126
LCTC 100123
160х244
125x222
254/100"
11/3/30
white
Matte White
120х160x2735
19,9
$2290
LCTC 100124
168х257
132x234
269/106"
11/3/30
white
Matte White
120х160x2865
20,7
$2386
LCTC 100125
184х286
148x264
302/119"
11/3/30
white
Matte White
120х160x3155
22,8
$2617
LCTC 100126
186х317
166x295
338/133"
11/3/15
white
Matte White
120х160x3470
24,9
$2861
LCTC 100127
207х354
187x332
381/150"
11/3/15
white
Matte White
120х160x3840
27,6
$3639
LCTC 100128
219х374
198x352
404/159"
11/3/15
white
Matte White
120х160x4040
28,9
$3749
LCTC 100136
155х235
120x213
244/96"
11/3/30
white
Matte White Sound
120х160x2645
19,3
$3203
LCTC 100137
160х244
125x222
254/100"
11/3/30
white
Matte White Sound
120х160x2735
20
$3476
LCTC 100138
168х257
132x234
269/106"
11/3/30
white
Matte White Sound
120х160x2865
20,8
$3543
LCTC 100139
184х286
148x264
302/119"
11/3/30
white
Matte White Sound
120х160x3155
22,9
$3749
LCTC 100140
186х317
166x295
338/133"
11/3/15
white
Matte White Sound
120х160x3470
25
$3884
LCTC 100141
207х354
187x332
381/150"
11/3/15
white
Matte White Sound
120х160x3840
27,6
$3953
LCTC 100142
219х374
198x352
404/159"
11/3/15
white
Matte White Sound
120х160x4040
29,2
$5315