Fabric
flame retardant
surface can be cleaned
mildew resistant
viewing angle 160°
Portable floor retractable screens for mobile presentations are the ideal solution for those who spend a lot of time on business trips. Thanks to their light weight, compact size and simple configuration these screens are very easy to transport and assembly / disassembly.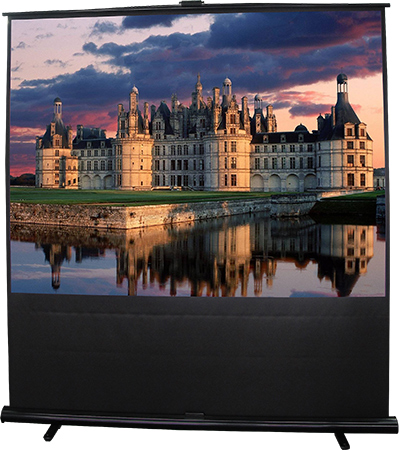 Features:
functional and convenient plastic carrying case is included in the delivery kit;
pneumatic mechanism provides a smooth extension of the screen;
compact and lightweight aluminum body;
the screen has two pull-out supports for the installation, which are easily moved inside the body when the screen is not used;
sliding supports for installation are equipped with adjusting screws to ensure the sustainability of installation;
Matte White FiberGlass projection fabric.
Table of models:
Product Code
Total
size, sm
A x B
Viewing
area, sm
C x E
Diagonal of the
viewing area,
sm/inches
D
Black border
around the perimeter /
on the bottom, sm
G
Size
of the case,
sm
Weight, kg
Retail
price
aspect ratio 4:3
LMPR 100101
175х135
91x122
152/60"
2,5/66
120x144x1350
6.2
$551
LMPR 100102
203х159
110x146
183/72"
2,5/75
120x144x1590
7
$593
LMPR 100103
212х176
122x163
203/80"
2,5/66
120x144x1760
7,7
$644
LMPR 100104
235х216
152x203
254/100"
2,5/60
120x144x2160
9
$735
aspect ratio 16:9
LMPR 100105
178х146
75x133
152/60"
2,5/83
120x144x1460
6,5
$551
LMPR 100106
202х190
100x177
203/80"
2,5/68
120x144x1900
7,9
$644