Fabric
flame retardant
surface can be cleaned
mildew resistant
LUMIEN MASTER Fold projection screens are сompact screens for mobile use. The main spheres of use are showbiz, exhibitions, training seminars. These screens are easily assembled and disassembled and put in a metal carrying case on 4 wheels. They consist of a solid sturdy steel frame and two T-shaped reinforced legs and do not lose their durability during frequent transportations.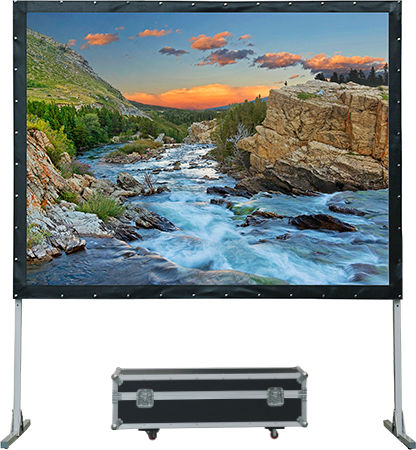 Features:
quickly assembled and disassembled without any special tools;
projection fabric is stretched in a matter of seconds;
sturdy frame made of anodised aluminum is a single structure, making the screen more steady;
direct, rear or both direct and rear projections are available;
strong and flexible joints provide the reliable connection and do not lose their quality during frequent assembly / disassembly works;
carrying case of metallic alloy has increased strength and can withstand any conditions of carriage;
Matte White, Rear Projection, or combined Matte White + Rear Projection fabrics.
Table of models:
Product Code
Total
size, sm
A x B
Viewing
area, sm
C x E
Diagonal of the
viewing area
sm/inches
D
Black border
around the
perimeter, sm
G
Fabric
Size of
the case,
mm
Weight, kg
Retail
price
aspect ratio 4:3
LMF 100101
168x219
152x203
254/100"
8
Matte White
36х2190x1680
14,7
$919
LMF 100102
199x260
183x244
305/120"
8
Matte White
36х2600x1990
16,7
$961
LMF 100103
245x321
229x305
381/150"
8
Matte White
36х3210x2450
23,6
$1137
LMF 100104
290x382
274x366
457/180"
8
Matte White
36х3820x2900
31,3
$1392
LMF 100105
321x422
305x406
508/200"
8
Matte White
36х4220x3210
33,6
$2007
LMF 100106
400x526
381x508
635/250"
9
Matte White
36х5260x3995
47,2
$4523
LMF 100107
476x628
457x609
762/300"
9
Matte White
36х6280x4760
58,6
$5936
LMF 100108
168x219
152x203
254/100"
8
Rear Projection
36х2190x1680
14,4
$1039
LMF 100109
199x260
183x244
305/120"
8
Rear Projection
36х2600x1990
16,3
$1100
LMF 100110
245x321
229x305
381/150"
8
Rear Projection
36х3210x2450
22,4
$1379
LMF 100111
290x382
274x366
457/180"
8
Rear Projection
36х3820x2900
30,4
$1803
LMF 100112
321x422
305x406
508/200"
8
Rear Projection
36х4220x3210
32,5
$2007
LMF 100113
168x219
152x203
254/100"
8
Matte White + Rear Projection
36х2190x1680
16,9
$1229
LMF 100114
199x260
183x244
305/120"
8
Matte White + Rear Projection
36х2600x1990
19,4
$1385
LMF 100115
245x321
229x305
381/150"
8
Matte White + Rear Projection
36х3210x2450
26,9
$1823
LMF 100116
290x382
274x366
457/180"
8
Matte White + Rear Projection
36х3820x2900
36,5
$2049
LMF 100117
321x422
305x406
508/200"
8
Matte White + Rear Projection
36х4220x3210
39,7
$2516
aspect ratio 16:9
LMF 100118
141x237
125x237
254/100"
8
Matte White
36х2370x1410
14,7
$919
LMF 100119
165x282
149x266
305/120"
8
Matte White
36х2820x1650
16,7
$961
LMF 100120
203x348
187x332
381/150"
8
Matte White
36х3480x2030
23,6
$1137
LMF 100121
240x415
224x399
457/180"
8
Matte White
36х4150x2400
31,3
$1392
LMF 100122
266x461
249x443
508/200"
9
Matte White
36х4610x2660
33,6
$3420
aspect ratio 16:10
LMF 100124
151x231
135x215
254/100"
8
Matte White
36х2310x1510
14,7
$919
LMF 100125
178x275
162x259
305/120"
8
Matte White
36х2750x1780
16,7
$961
LMF 100126
218x339
202x323
381/150"
8
Matte White
36х3390x2180
23,6
$1137
LMF 100127
258x404
242x388
457/180"
8
Matte White
36х1880x2420
31,3
$1392
LMF 100128
287x449
269x431
508/200"
9
Matte White
36х4490x2870
33,6
$3420